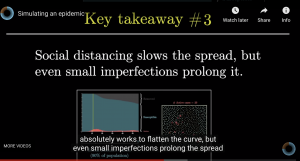 How to know when you need to completely ISOLATE.
First, a reminder about the term "CCP" (Read more…Consensually Consistent Pod).
A CCP is a small group of people (generally those you live with) who have all agreed to maintain strict physical distance from all others and will exercise extra careful personal hygiene.
How we can each do our part to minimize the spread of CoVid-19 is to know WHEN we need to lock the CCP down and totally ISOLATE from all others outside the CCP.
COVID-19 Signs, Symptoms & Concerns.
If you have ANY ONE of the following, Please Self-Isolate for 14 days; Testing may be limited in your area, so with any of the following, assume you are Positive for CoVid-19 until a Negative Test proves otherwise, or you have isolated for over 14 days.
Notify your health care provider and employer immediately if:
You have a known exposure to anyone who has tested positive for CoVid-19.
You have any one of the following list of symptoms:

Change in breathing; chest tightness or feeling of shortness of breath.
Cough
Fever
Body aches
Diarrhea or other GI disturbances

You have traveled out of town and been in and around people unknown to you.
You have spent time with others who have traveled here from elsewhere and are essential workers
Verified Positive CoVid-19 Test Result.
IF SOMEONE IN THE CCP IS SYMPTOMATIC AND/OR TESTS POSITIVE:
Isolate the symptomatic or Covid-19 Positive person away from remaining CCP members.
Everyone within the CCP must assume they are Covid-19 Positive and isolate accordingly for 14 days.
Testing is complicated and may or may not to reveal the true status of the asymptomatic CCP members.
Continue excellence in personal and household hygiene to minimize exposure.
Remember – testing is key to knowing your status and how infectious you are to others. We have to assume we are infectious until we know otherwise with a negative CoVid-19 test result.
Please Watch This….
To find out if a Telemedicine Visit can work for you, Preregister on-line and we will call you for a review of your symptoms. Wait at home for the call.
We can use SKYPE for your visit – DOWNLOAD in advance!
Search Skype for live:hilltopmedicalclinic
By Dr. Nancy Sutton Pierce
Health Educator & PR/Media Liaison
PRESS: Contact for PR or Media – DrNancy@DrNSP.com
Press Contact:
DrNancy@DrNSP.com
Please follow and like us: