Getting Back to Business
We, at Hilltop Medical Clinics, have responded to the Covid-19 Pandemic as quickly and efficiently as possible. This continues to be an ongoing challenge as we learn more everyday about this virus, how it spreads, what the testing really means, the use of antibody tests, how to protect our medical staff as well as keeping patients safe and informed.
The middle of March 2020 marked a swift change in the way we were going to be practicing medicine. The Public Health Department called our West Clinic asking if we would be available to test the first person in Shasta county suspected of having Covid-19. The woman had been aboard the cruise ship with some of the first positive cases landing on the shores of California.
We learned that day that seven other medical services had been contacted to test, we were the eighth, and all seven had refused this request. Dr. Pierce's response was, "Yes" followed by "how do we do this, and will you provide us with the tools to do so"? He proceeded to quickly rally the staff and prepare for the first testing to be done, of all places, in the parking lot.
The patient arrived accompanied by a second younger woman (assumed to be her daughter). Dr. Pierce and the nurse on duty, gowned, gloved, masked, shielded and ready, stepped into the parking lot to test, as well as, exam the patient and offer her medical intervention for what was a severe cough and shortness of breath. It was at this time the young woman brought out a video camera and began recording the event. Still thinking this was a family member, nothing was said.
Dr. Pierce instructed them to a pharmacy and suggested the patient's daughter would be the one to go into the pharmacy to pick up needed medicines. Much to his surprise, the younger woman identified herself as a reporter from a local news source who was going to put this on the news that morning. It would have been nice to have known this in advance.
The medical team at Hilltop felt great about stepping up to the plate and doing what medical people do… take care of people in need.
Immediately upon airing of the event on the news, the usually bustling clinic on Eureka way became silent. Not a car or patient to be seen the rest of the day. It is at this time we felt the fear of the unknown building within the community and knew we had to respond, and quickly!
The next couple of days we rallied forces and split the clinics into two separate functions. We knew it was our responsibility to be one of the few testing centers in Redding. Yet we knew there were many other people with non-respiratory illnesses that would need our services. We established one clinic for testing and respiratory illnesses, the other for everything else. We also immediately initiated telemedicine so there would be nobody ever sitting in a crowded waiting room, and to protect our community as well as our staff.
HTMC has been responsible for identifying approximately a third of the positive cases in Redding and working closely with the PHD and the local labs to ramp up testing. Like many medical businesses across the country, our overall patient volume dropped off by 50% and we had to make daily adjustments in our staffing to help as many of our employees continue to work.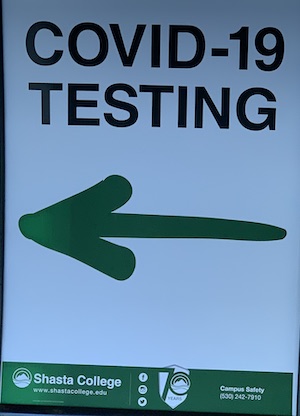 On March 30 the state of California opened one of their Covid-19 testing sites at Shasta College to increase testing to a minimum of 100 a day. Their testing criteria is responsible, as we need to test everyone who is an essential worker, health care worker, childcare worker, and/or working with the public on any level. We also need to test everyone with any of the lengthening list of symptoms. By doing this we can find those who are pre or asymptomatic and spreading the virus unknowingly… for which the data thus far implies is 25% of the total cases.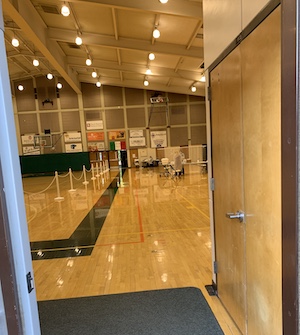 HTMC is confident the new testing site can meet the demands of our community. In this new light, we can now return to offer both the east (on Hilltop Drive) and west (on Eureka way) clinics for everyone; with the stipulation that everyone is screened for Covid-19 symptoms or exposure; and offered a telemedicine visit if warranted. This helps ensure patient safety and convenience while keeping our medical team healthy and available.
[As of April 9, 2020, 9,282 health care personnel where infected in the USA. This is before we even reached the peak.]
Starting Monday May 4, 2020, both clinics will be back to their original days and hours offering Urgent Health Care to everyone in our community. All medical staff will be using PPE and patients are required to wear nose/mouth covering before entering the clinic. Our sanitation practice is strict and top priority. To date, no staff have tested positive (we have been testing and plan a great deal more).
We all look forward to enjoying more daily freedoms, many of which we didn't appreciate nearly enough. It's natural to wish this was all just a hoax, or a nightmare, and push to "get back to normal" as quickly as possible. We fully understand this desire. And we also fully understand the devasting consequences of doing this prematurely and without great care for "how" we re-enter the flow of our society.
We are being given a rare opportunity to learn patience, creativity, tolerance, appreciation, mindfulness, the power of personal hygiene, and our own sense of community responsibility.  We have to each do our part.  So far, in northern California, we have kept this beast at bay.  

This is our goal to stay in this category.  

We can do this by following the simple yet profoundly effect tactics; washing hands 20 seconds and often; not touching our face without washing hands first; wearing a mask to protect others from the chance you are sick and not yet symptomatic; physical distancing around people outside your [i]CCP; isolating at the first sign of illness; getting tested if you are on the list of candidates;  avoiding large groups… especially in enclosed spaces;  keep your immune system strong by following healthy living practices; get fresh air and sunshine daily; stay connected to loved ones via technology; and finally, find new ways to earn money based on the changing needs of society.  New jobs are being created every day at the same time we must acknowledge many of the "non-essential" jobs may not return, and we need to be prepared for the NEW NORMAL that is coming our way.  
Our New Clinic Access Procedures:
If the internet is not accessible;

Call clinic of choice for registration assistance. 
Hilltop Drive Clinic- (530) 221-1565 / Eureka Way Clinic- (530) 246-4629

A Covid-19 Screening questionnaire will be required at every encounter.
Telemedicine visits provided for medical intervention not requiring a physical exam or in office procedure, test or imaging. 
In office visits will require you to have a facial mask or fabric covering.
Call from HOME before coming to clinic 
You will be asked to wait in your car until the doctor is ready to see you inside the clinic.
---
[i] CCP – Consensually Consistent Pods. Keeping these small and consistent is important so if one person within the pod falls ill, containment of the spread can be swift and disruptive to few. This is how we keep a virus such as Covid-19 from following the paths of NYC, Los Angeles, Italy, etc.
By Dr. Nancy Sutton Pierce
Health Educator, Public Relations & Media Liaison
Hilltop Medical Clinics
PRESS: Contact for PR or Media – DrNancy@DrNSP.com
Please follow and like us: