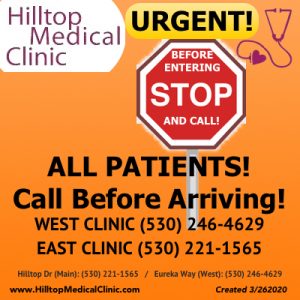 We, at Hilltop Medical Clinics, are remaining open to help serve your medical care needs. In order for us to continue to do so, and in order to keep you and our staff as safe as possible, we ask you to follow these new guidelines until we state otherwise.
NOW MANDATORY!
REGISTER ONLINE FOR ALL CLINIC OR TELEMEDICINE VISITS
ALL PATIENTS MUST CALL CLINIC ONCE REGISTERED FOR VISIT!

You will be assessed for the possibility of a TELEMEDICINE visit.
If you need medical care services, you will then be triaged to the appropriate clinic or other medical service center.

IF YOU ARE EXPERIENCING Fever, Chills, Cough, Body Aches;

CALL (530) 221-1565 (Hilltop East on Hilltop Drive)

For all other health concerns

CALL (530) 246-4629. (Hilltop West on Eureka Way)

ALL PATIENTS MUST CALL FROM PARKING LOT UPON ARRIVAL

This is so NO ONE is waiting inside Clinic waiting room.
A clinic medical staff will come out to assist you.
We are doing this to honor the "Social Distancing" and the importance of "Shelter In Place". Many health care concerns can be excellently managed with a Telemedicine Visit.

Please Download SKYPE NOW (it is free), so you can still have a Face-to-Face visit with your health care provider.
To find out if a Telemedicine Visit can work for you, call (530) 246-4629
We use SKYPE for your visit – DOWNLOAD in advance!
Search Skype for live:hilltopmedicalclinic
By Dr. Nancy Sutton Pierce
Health Educator & PR/Media Liaison
PRESS: Contact for PR or Media – DrNancy@DrNSP.com
Please follow and like us: