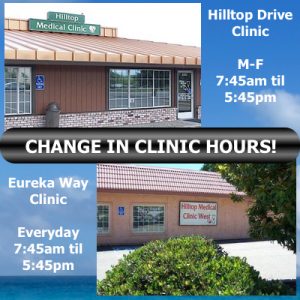 As we are all faced with a new normal that seems to change daily, and we find being decisive in our adaptations necessary. These changes are temporary so please check back to the website frequently for updates.
For now, the clinic on Hilltop Drive will serve as the Covid-19 Testing site for anyone who qualifies based on the Public Health Dept criteria;
Experiencing Fever, Cough, Shortness of Breath
Have been directly exposed to someone who has tested positive for Covid-19
EAST CLINIC IS OPEN Monday thru Friday for now (located at 1093 Hilltop Drive),
The Waiting room is closed and all patients must call clinic (530) 221-1565 BEFORE entering. Hours are 7:45am-5:45pm
All patients need a TELEMEDICINE VISIT FIRST, based on the doctor's determination, you will be instructed further. All testing is done in your car by our trained medical staff, who will come out to you.
The WEST CLINIC on Eureka Way will now be OPEN 7 DAYS A WEEK for all other urgent care problems. (located at 2123 Eureka Way)
The protocol is still to call for Telemedicine visit first. Anyone in need for a Covid-19 Test will be referred to the Hilltop Drive Clinic during their business hours.

The Waiting room is closed and all patients must call clinic (530) 246-4629 BEFORE entering. Hours are 7:45am-5:45pm
#WashYourHands #StayHome #ShelterInPlace #FlattenTheCurve
By Dr. Nancy Sutton Pierce
Health Educator & PR/Media Liaison
PRESS: Contact for PR or Media – DrNancy@DrNSP.com
We use SKYPE for your Telemedicine visits – DOWNLOAD in advance!
Search Skype for live:hilltopmedicalclinic
Please follow and like us: