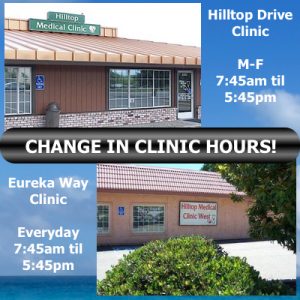 As we are all faced with a new normal that seems to change daily, and we find being decisive in our adaptations necessary. These changes are temporary so please check back to the website frequently for updates.
Hilltop Medical Clinic does not perform covid testing. For Covid-19 Testing contact LAB 24 or county website ShastaReady.org site if you are
Experiencing Fever, Cough, Shortness of Breath
Have been directly exposed to someone who has tested positive for Covid-19
Our CLINIC IS OPEN 7-days per wek and we are located at 1093 Hilltop Drive, next to Country Kitchen & Gold Mart.
The Waiting room is closed and all patients must Register Online. If non-ill we will allow you to enter the clinic for services ***However Please Note: MASKS ARE MANDATORY (NO EXCEPTIONS). You may call clinic (530) 221-1565 if further questions. Hours are 7:45am-5:45pm
All sick/ill patients will be routed to TELEMEDICINE VISIT, based on the doctor's determination, you will be instructed further. All testing is done in your car by our trained medical staff, who will come out to you.

YOU HAVE BEEN COVID-19 TESTED….
#WashYourHands #StayHome #ShelterInPlace #FlattenTheCurve
By Dr. Nancy Sutton Pierce
Health Educator & PR/Media Liaison
PRESS: Contact for PR or Media – DrNancy@DrNSP.com
Please follow and like us: