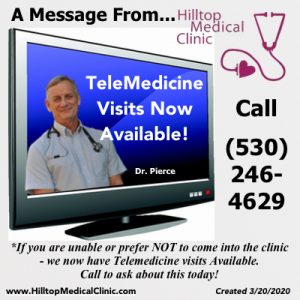 Hilltop Medical Clinic
"Adapting to Rapidly Changing Health Care Climate"
Staying Ahead of The Curve
Redding, Ca— Friday March 20, 2020 — Today, Hilltop Medical Clinic announced immediate availability of Telemedicine enabling those who might be infectious, as well as at personal risk, to seek medical care from the safety of their homes.
"We are working to stay ahead of the curve," said Dr. Nancy Sutton Pierce, Director of Public Relations at Hilltop Medical Clinic.
To find out if a Telemedicine Visit can work for you, call (530) 246-4629
We use SKYPE for your visit – DOWNLOAD in advance!
Search Skype for live:hilltopmedicalclinic
A Positive Community Health Impact
We are doing our part to flatten the viral curve of the Coronavirus as well as Influenza. Currently we are still seeing many patients testing positive for flu. At the request of the Public Health Department, we have recently upgraded to state-of-the-art equipment that more accurately tests for influenza A & B.
"Many patients are now quite fearful when they develop a fever and cough, so it's best to come in for influenza testing and treatment early, said Dr. Mark Pierce, Owner and Internal Medicine Physician. "The medications for Influenza work best when started within the first 48 hours of symptom onset."
New Clinic Guidelines
We are now seeing all routine physicals, injuries, allergies, general medical conditions or medication refills at the West Hilltop Medical Clinic on Eureka Way. Anyone with Respiratory symptoms such as cough, shortness-of-breath, body aches and fever are now being directed to the East Hilltop Medical Clinic on Hilltop Drive.
If you feel you are contagious or have been exposed to someone sick, please call from the parking lot and the staff will come out to you. (530) 221-1565
Convenient Pre-Registration
Save yourself time by visiting our website to pre-register for your visit. You can also call in to get the process started to save you time waiting upon arrival.
Founded in 1986, Hilltop Medical Clinic is a community leader in Health, Wellness and Urgent Health Care needs. The West clinic is open M-F, The East Clinic is open 7 days a week, both hold hours from 8am to 5:45pm.
Hilltop East : (530) 221-1565 1093 Hilltop Drive, Redding.
Hilltop West: (530) 246-4629 2123 Eureka Way, Redding
For more information, press only:
By Dr. Nancy Sutton Pierce
Health Educator & PR/Media Liaison
PRESS: Contact for PR or Media – DrNancy@DrNSP.com
For more information on our Services:
Dr. Nancy Sutton Pierce
Director of Public Relations HTMC
Please follow and like us: