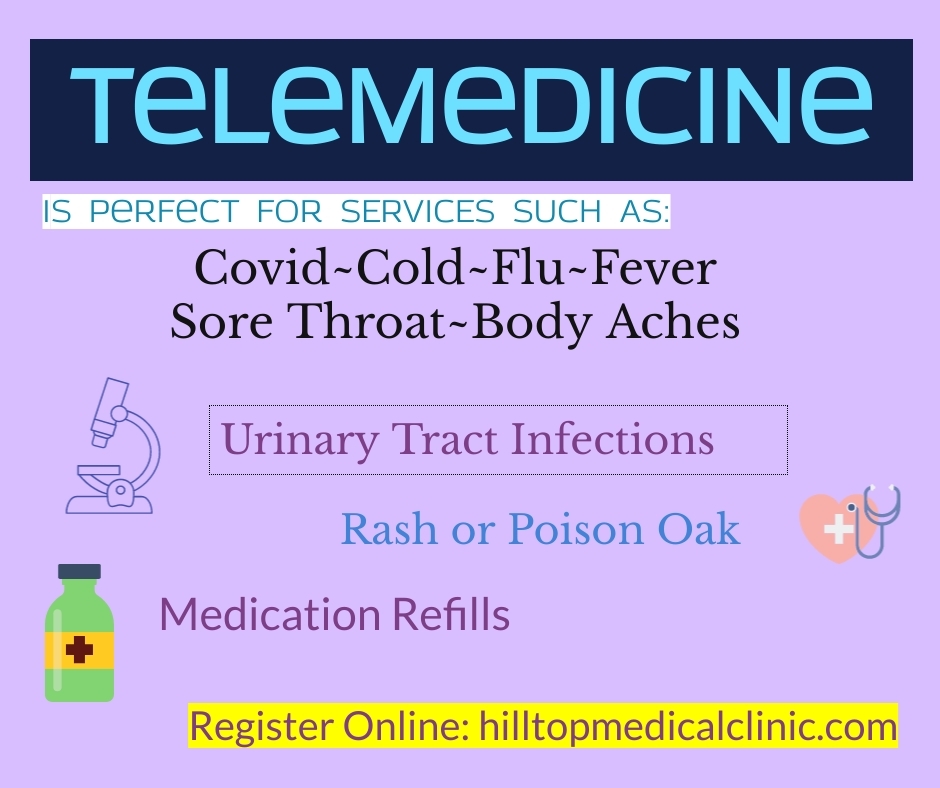 Hilltop Medical Clinic
"Adapting to Rapidly Changing Health Care Climate"
Staying Ahead of The Curve – Offering "Local Telemedicine Services"
Redding, Ca— Today, Hilltop Medical Clinic announced immediate availability of Telemedicine enabling those who might be infectious, as well as at personal risk, to seek excellent medical care from the comfort and safety of their homes by someone you know is close by to follow up directly.
Please Sign in online @ HilltopMedicalClinic.com for a Telemedicine Visit. If unsure a Telemed visit can work for you, please call (530) 221-1565
Which health problems can be taken care of through telemedicine?
Anything you feel is infectious or places you or others at risk. Other common telemed visits include, urinary tract infections, poison oak, migraines, vertigo, routine medicine refills, sore throat, allergies, shingles, most rashes, sexually transmitted infections, birth control, swimmers ear, conjunctivitis, recurrent gout, sexual dysfunction, follow up for lab or imaging reports to name a few.

We recommend to beginning with a telemed visit whenever possible, and if your doctor feels it's best for your care to see you in person, a quick trip into the clinic can be done efficiently since your doctor already knows what your concerns are and has a plan for you generated.
A Positive Community Health Impact
Telemedicine has been a positive consequence of the pandemic. Patients are catching on that having a physican whom they already have a relationship with, or can follow up with in subsequent days, is an important service they don't know they were missing.
Inadvertently spreading Infectious illness is always a concern of ours. If you don't feel well, have a fever, cough, sore throat, diarrhea, or body aches, it's prudent to utilize telemedicine to protect yourself and others, and get excellent health care.
Your telemedicine doctor may suggest testing to rule out or confirm a diagnosis, or a treatment plan. A quick trip to our clinic for a test, injection or pick up a prescription is a convenient service added to our telemedicine practice. "Many patients are now quite fearful when they develop a fever and cough, so it's best to come in for Covid or influenza testing and treatment early", said Dr. Mark Pierce, Owner and Internal Medicine Physician.  "The medications for Influenza work best when started within the first 48 hours of symptom onset."
New Clinic Guidelines
While online registration is necessary for all patients, many are now being seen in the clinic by one of our providers when telemedicine is not the best course of action. All routine physicals, injuries, general medical (non-illness) conditions are offered in the clinic.  Anyone with Respiratory symptoms such as cough, shortness-of-breath, body aches and fever will continue to be directed to our Telemedicine doctor (over the phone).
Sign in online and we will call you back within the hour.
If you feel you are contagious or have been exposed to someone sick, please call from the parking lot and the staff will come out to you. (530) 221-1565
Convenient Pre-Registration
Save yourself time by visiting our website to pre-register for your visit. You can also call in to get the process started to save you time waiting upon arrival.
Founded in 1986, Hilltop Medical Clinic is a community leader in Health, Wellness and Urgent Health Care needs. The Hilltop Clinic is open 7 days a week, hours from 8am to 4pm.  
Hilltop East : (530) 221-1565 1093 Hilltop Drive, Redding.
Please follow and like us: