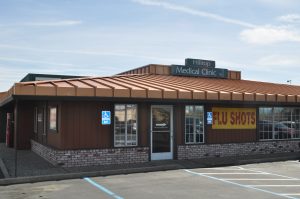 Dear Valued Patients, March 16, 2020 Updated March 20, 2020
With your best interest in mind, and to be pro-active in limiting the spread of the influenza and other viruses, we ask that you follow our new strict guidelines.
MONDAYS- FRIDAYS
WELL-PATIENT VISITS: We ask that our healthy patients in need of a routine physical exam or have an injury, to please use the Hilltop Medical clinic on Eureka Way. 2123 Eureka Way, Redding, Ca
ANY RESPIRATORY ILLNESSES WILL BE REDIRECTED TO THE EAST CLINIC.
POTENTIALLY CONTAGIOUS ILLNESS: Anyone presenting with Respiratory symptoms such as cough, shortness-of-breath, body aches and fever, please use the East Hilltop Medical Clinic on Hilltop Drive. 1093 Hilltop Drive, Redding, Ca

NOTE: IF YOU HAVE A COUGH & FEVER, OR HAVE BEEN EXPOSED TO SOMEONE SICK, CALL (530) 221-1656 FROM YOUR CAR AND STAFF WILL COME OUT TO YOU.
TELEMEDICINE VISITS: If you are an at risk patient (over 60, respiratory or cardiac compromised, immunosuppressed, or have any other underlying health risk), please call (530) 246-4629 to learn more about this offer.
We can use SKYPE for your Telemedicine visits – DOWNLOAD in advance!
Search Skype for live:hilltopmedicalclinic
WEEKEND AVAILABILITY
SIGN IN ON LINE OR BY PHONE! – We highly recommend using this convenience. If you are an established patient, please call to register by phone. If you are a new patient, use our online sign in form to save you time once you've arrived at the clinic.

WAIT TIME – We understand your time is valuable. Please call us and we will provide you with an "approximate" wait time and a best time to arrive at the clinic. This will minimize you lobby waiting time, thus minimizing proximity with other patients.
PLEASE NOTE: We continue to ask the following:
1. If you have any signs of illness such as fever, dry cough, or difficulty breathing, call ((530) 221-1565 before entering clinic.
2. CoVID-19 CONTACT? Call before coming to clinic if you have any reason to believe you have been in contact with someone positive for CoVid-19 (Coronavirus).
Thank you so much for your cooperation with helping us keep our community healthy!
By Dr. Nancy Sutton Pierce
Health Educator & PR/Media Liaison
PRESS: Contact for PR or Media – DrNancy@DrNSP.com
Please follow and like us: