The SARS-CoV-2 Virus has ravaged the World and the United States. Our efforts to control the spread with lockdowns, masks, and socially distancing were initially effective and now have failed. Our ability to test and trace has been overwhelmed. Our economy has suffered from the loss of jobs and businesses with little hope of full recovery until the pandemic abates. Our State and Federal Governments have provided financial assistance and protections, but many people are stressed, worried about their next meal and their ability to pay their rent.
Unfortunately, the burden of this pandemic has not been shared equally. The CDC counted 287,000 cases in healthcare workers and 953 deaths. I believe this is an underestimate. Latino and Black cultures have experienced a disproportion of illness and death. The travel, entertainment, and restaurant businesses have been decimated.
Vaccination has altered the course of many infections that have plagued humans (our pets as well). Their effectiveness and safety record are proven. The graph below from the CDC demonstrates the effect of vaccination on Measles.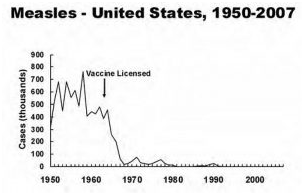 The effects are so dramatic it is difficult to appreciate. During my forty years of practice, I have encountered one case of tetanus, one case of mumps, no measles, and I have witnessed a dramatic decrease in pneumococcal infections. The HPV vaccine will cure cervical, rectal, and oral cancer.
Scientists have created the SARS-VoV-2 vaccine in record time. I appreciate their efforts and dedication. The final step was testing the safety and effectiveness. The graph below from the NEJM demonstrates how it dramatically alters the susceptibility of a population.
No serious side effects were reported in the testing population (40,000) and it has already been administered to an additional several million around the world. A small number of people did have an allergic reaction that required additional treatment. They all recovered. The vaccine is safe by all usual testing standards. No shortcuts or compromises in approval have occurred
Vaccination is essential to control the spread and devastation of this virus. Herd immunity will take years to develop at a tremendous cost in death and quality of life. Many people survive but have decreased lung function, loss of limbs, dialysis, loss of taste and smell, chronic fatigue, and others.
The SARS-CoV-2 Virus recently mutated to a more infections strain. People who decline to be vaccinated eventually will experience the Covid-19 infection.
This is my 40th year of practicing in Redding. I love living in this area, because over time our paths cross, and we learn about each other's intentions. We build trust. I believe the vaccine is safe and strongly recommend everyone participate. As a community, we can control this pandemic.
Please follow and like us: